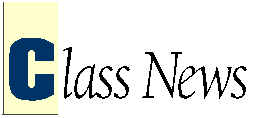 1960s
---
What's the news? We are always eager to receive your news at the Magazine, care of the Class News Editor, University of Chicago Magazine, 1313 E. 60th St., Chicago, IL 60637, or by E-mail: uchicago-magazine@uchicago.edu.

To write us with your news directly, click here for our e-mail form: uchicago-magazine@uchicago.edu.

No engagements, please. Items may be edited for space. As news is published in the order in which it arrives, it may not appear immediately.

Please specify the year under which you would like your news to appear. Otherwise, we will list: (1) all former undergraduates (including those who later received graduate degrees) by the year of their undergraduate degree, and (2) all former students who received only graduate degrees by the year of their final degree.
---
60
Harvey M. Choldin, AB'60, AM'63, PhD'65, see 1986, Mary Choldin. The 1994 book Healthcare Reform DOA, by Gene R. Moss, SB'60, CLA'68, was nominated for a national award by the American Risk and Insurance Association. Chiaki Nishiyama, AM'52, PhD'60, is a professor of economics at the International University of Japan and a senior research fellow at Stanford University's Hoover Institution.
61
Ivan Argüelles, AB'61, and Marilla Elder Argüelles, AB'65, celebrated the publication of their latest books by spending Christmas 1995 in Cuba with their younger son, Max, 28, at the International Conference on Disability and Integration. Their older son, Alexander S. Argüelles, AM'88, PhD'94, recently became chair of the foreign language department at Handong University in Pohang, South Korea. John Mills, SB'61, came from Australia to celebrate his 35th reunion at the U of C in 1996. James H. Parker, AM'61, has taken early retirement from Long Island University in Brooklyn and embarked on a "semi-career" as CEO of Aberdeen Press in Aberdeen, NJ. "Now I have not a moment's peace," he writes. Charles G. Staples, AM'61, has enjoyed three busy years of retired life with wife Joan. They volunteer, serve on boards, and are politically active, and their travels have included South America, Indonesia, Great Britain, East Africa, Egypt, and several U.S. destinations. Margaret Swideck Strodtz, AM'61, won the American Cancer Society's Capitol Dome award and the 1996 Individual Excellence Award in Advocacy from the society's Minnesota chapter.

62
Having served Borden, Inc., in numerous capacities since 1976, including as general counsel and secretary, Nancy Gutfeld Brown, AB'62, AM'63, was elected vice president of legal and corporate affairs at Borden Foods. Marianna Tax Choldin, AB'62, AM'67, PhD'79, see 1986, Mary Choldin. In a new archaeological project, John M. Fritz, AB'62, AM'68, PhD'74, is documenting a Moghul garden near the Taj Mahal. Elizabeth Robson, AB'62, has worked for nine years as a clinical social worker at the University of Massachusetts at Boston, where son Joshua is a second-year student and Robson is studying for her certificate in alcohol- and substance-abuse treatment.
63
Kai T. Erikson, AM'55, PhD'63, a professor of sociology and American studies at Yale University, studies and writes about the effects of disasters on human communities. In October he lectured at the Erikson Institute in Chicago on the destruction of community in the former Yugoslavia. Sally M. Miller, AM'63, held her second Fulbright appointment in 1996, this time at the University of Turku in Finland. She has also taught at Otago University in New Zealand. Robert A. Moss, SM'62, PhD'63, traveled to Israel last year, giving lectures on the chemistry of carbenes at the Weizmann Institute, Hebrew University, and Ben Gurion University. Bruce A. Shuman, AB'63, AM'65, is a visiting professor at the school of library and information science at the University of South Florida in Tampa. Miroslav Synek, PhD'63, formerly a university professor in physics and chemistry, works as an independent consultant.
64
Devra G. Kleiman, SB'64, chair of zoological research at the Smithsonian Institute's National Zoological Park, has planned a sabbatical to write a book summarizing 24 years of research and conservation efforts with the golden lion tamarin of Brazil. Judith Newlin Sherwood, SM'64, a technical writer for a Silicon Valley software company, also studies American Sign Language. Lael Swinney Stegall, AM'64, see 1937, Olive Walker Swinney. John M. Wilson, MBA'64, develops software for his company, Decision Routing, Inc., and does contractual work in analysis and design.
65
Marilla Elder Argüelles, AB'65, see 1961, Ivan Argüelles. Albert H. Carter III, AB'65, a teacher at Eckerd College in St. Petersburg, FL, spent the 1995­96 academic year teaching at UNC­Chapel Hill and living with his wife in a log cabin in the woods with "plumbing, but no TV." Gandikota V. Rao, SM'61, PhD'65, recently received a presidential service award at St. Louis University, where he has taught and worked for 25 years. William R. Winkler, SM'65, teaches autistic teenagers in the Dallas public schools. He presented the Dallas Astronomical Society's June 1996 program on cosmology. Ann Hulsizer Wymore, AB'65, earned her doctorate in 1991 and works as a psychotherapist at the University of Illinois student health center. Since college, she has lived and worked in Kansas, British Columbia, and Massachusetts, but "has wound up in the Midwest, after all." Her son attends Earlham College in Indiana. She writes that she is "happy more days than not, and [does] not know what more a person could ask."
66
Everett C. Goodwin, AB'66, is chaplain at the Flint Hill School in Oakton, VA, and wife E. Jane Gray Goodwin, X'67, is acting associate director of the Fairfax County public libraries. They accompanied their youngest daughter, Leah, to Chicago for her 1996 orientation to the College and look forward to visiting campus again. After nearly 10 years abroad--including three years traveling by yacht and five years living in Melbourne, Australia, where she built a consulting business--Mary C. Gottschalk, AB'66, has returned to the U.S. and become director of treasury risk management for Arthur Andersen in New York City. William R. Heitzmann, MAT'66, a writer and Villanova University coach, wrote Careers for Sports Nuts. Having been a Realtor for 16 years, Raymond J. Hengel, MBA'66, has sold houses to three of his four children. He enjoys seeing them and his three grandchildren, all of whom live in the vicinity of San Antonio and Austin, TX. His fourth son served in the U.S. Army for eight years and now attends college full time under the GI Bill. Susan N. Horowitz, AB'66, receives intriguing offers for media appearances, lectures, and teaching opportunities in response to her recent book. She seeks a producer/director for her musical play Mac and Beth, "so theatrically inclined U of C alums, get in touch!" (telephone/fax: 212/732-0487). John C. Plotz, MBA'66, traveled to Argentina, Uruguay, and Brazil for two months in 1996. Georges X. Trepo, MBA'66, heads management and human resources at the HEC School of Management in France, and invites classmates passing through Paris to contact him at 33-01-39-67-94-29.

67
E. Jane Gray Goodwin, X'67, see 1966, Everett C. Goodwin. Ellen Lewin, AB'67, now an independent scholar affiliated with Stanford University, has edited two books on lesbian culture and anthropology (see "Books by Alumni," page 46). She lives with partner Liz in San Francisco. Charles M. O'Brien, Jr., MBA'67, president and CEO of the Western Pennsylvania Healthcare System, won the Ursuline Center's 1996 Renaissance award for his leadership in improving the health of Pittsburgh communities. Sister Mary Joyce Schladweiler, AM'67, has won several annual awards from the National Library of Poetry for her poems. David R. Segal, AM'63, PhD'67, and Mady Wechsler Segal, AM'67, PhD'73, are sociology professors at the University of Maryland at College Park. Both were appointed by President Clinton to boards of visitors: Mady at the U.S. Military Academy in West Point, NY, and David at the U.S. Army War College. Ronald J. Slaughter, SM'67, MD'67, a pathologist in Las Vegas, earned a master's of science in health administration from the University of Colorado in July.
68
Since the University of California, Davis, cut its geography department, Dennis J. Dingemans, AB'68, can now be found in the school's social-sciences unit. John S. Howett, AM'62, PhD'68, has retired after 30 years in the art history department at Emory University, where he received awards for teaching and service in 1982 and 1993. The university museum and art history department instituted the John Howett acquisitions and programs endowment fund, and the university museum named the drawing and print study room in his honor. A writer, scholar, and curator, Howett was the founding president of the Southeastern Society of Architectural Historians and served a term on the U of C Alumni Association board. Catherine Frerichs Lamb, AM'68, is a senior program officer at the 12-college consortium, the Great Lakes Colleges Association. Judith Van Herik, AB'68, MAT'71, AM'73, PhD'78, edited El Camino: Walking to Santiago de Compostela by Lee Hoinacki, a former priest, department head, and subsistence farmer in Illinois. Van Herik will edit subsequent books in this Penn State Press series, Lived Religious Experience. She also translated the preface to the English translation of Uwe Peorksen's Plastic Words: The Tyranny of Modular Language (Penn State Press), a critique of language in the tradition of George Orwell.
69
Richard E. Mendales, AB'69, AM'70, won tenure and became a law professor at the University of Miami School of Law. David H. Rosenbloom, AM'66, PhD'69, a distinguished professor of public administration at American University, has been on sabbatical in Tel Aviv University's public-policy program. Rosenbloom and the coeditor of the Policy Studies Journal and Public Administration Review received the Policy Study Organization's 1996 Thomas Dye award for their contributions to the field. N. Henry Simpson III, AM'69, reports that he practices law at Simpson, Woolley McConachie, LLP, in Dallas. Also a mediator and arbitrator, Simpson's work emphasizes investors' rights, consumer law, torts, and business litigation.
---
Within Class News:
---
Go to:
Return to February 1997 Table of Contents