Revolutionist: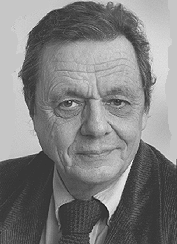 Francois Furet, the Raymond W. and Martha Hilpert Gruner distinguished service professor in social thought, has been elected to the Academie Francaise, France's premier intellectual society. Founded in 1634, the academy has counted among its members Victor Hugo and Voltaire. The Director d'Etude at L'Ecole des Hautes Etudes en Sciences Sociales in Paris, Furet helped reinterpret the French Revolution through his many books. He joined Chicago's faculty in 1985, spending autumn quarters and part of spring on campus.
Flowering potential:
Daphne Preuss, assistant professor in molecular genetics & cell biology, was named a 1997 Searle Scholar. Given to young biologists and chemists, the $180,000 award provides research funding over three years. Preuss studies molecules used by male and female plant cells to communicate to ensure successful fertilization.
Tuition increase:
The College term bill for 1997-98 will be $22,086--a 5-percent increase over last year. Scholarship support will continue to be emphasized: This past academic year, 63 percent of undergraduates received University scholarships (the average total support for those students was $13,790). Chicago will continue to admit the most qualified students, regardless of their ability to pay, and meet their full financial need.
Top-flight trio:
Three Chicago faculty members--mathematician William Fulton, molecular geneticist Susan Lindquist, and theoretical astrophysicist Michael Turner--are among 60 new members elected to the National Academy of Sciences.
Public speaking:
U.S. Attorney General Janet Reno was on campus in May to speak to Law School students. Focusing her discussion on computer crime, Reno also urged the future lawyers to consider careers in the public sector.
Education matters:
Following the University's decision to close the Department of Education in 2001 (see "Chicago Journal," Oct.-Dec./96), Provost Geoffrey Stone, JD'71, appointed a faculty committee to consider the future of education research and teaching at Chicago. Chaired by Divinity School Dean Clark Gilpin, AM'72, PhD'74, the committee will review such matters as how to structure interdisciplinary education research and how best to prepare students for education careers.
Novel experience:
Toni Morrison will come to Chicago as a visiting University scholar for six weeks a year, starting in 1998. Morrison, who won the 1993 Nobel Prize for literature, is best known for her novels chronicling the African-American experience. While on campus, she will lecture and participate in workshops, seminars, and conferences.
A world of fun:
About 1,500 people attended this spring's Festival of Nations, sponsored by International House. Attendees sampled Middle Eastern cuisine, listened to folktales from Botswana, and enjoyed cultural performances like the Odissi dance (demonstrated above by graduate student Radhika Jha).
Liquid assets:
The gallons of java imbibed at the Divinity School Coffee Shop over the years could float a boat, but profits from the shop will launch something far more valuable. The Divinity Students Association--the shop's owners and operators--have invested $45,000 of accrued savings to set up a scholarship fund for Divinity students.
Food fight:
In early spring, Chicago faculty debated the merits of latkes vs. hamentaschen before a crowd of 300 New Yorkers, mostly alumni. The Big Apple event-cosponsored by the Newberger Hillel Center and the U of C's New York alumni club-marked the debate's 50th anniversary and its first road trip.
---
In this department:
Also in the Journal:
Plus items For the Record.
---
---
Go to:
---
Return to June 1997 Table of Contents