Campus plan aims for classic look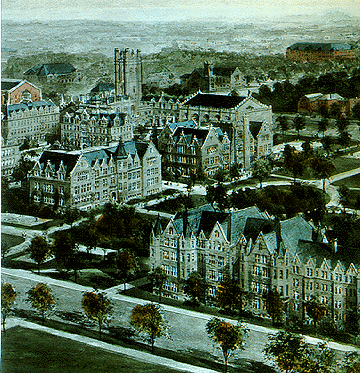 Open spaces: The Cobb plan gave the quads a warm, intimate feeling.
Anyone returning to the U of C after even a few years away would notice some startling changes. Just north of the Science Quadrangle stands the new, four-story Biological Sciences Learning Center. West of the quadrangles looms the Duchossois Center for Advanced Medicine complex, occupying an entire block. And renovations have lifted the Reynolds Club from comfortably dilapidated to invitingly posh.
That's only the beginning. Blueprints are being drawn for a new athletic center; plans to either renovate or replace the half-century-old Enrico Fermi and James Franck institutes are underway; and the need for new undergraduate residence halls on campus is being seriously discussed. Over the next ten years, a total of $500 million in capital expenditures across the University--not including projects in the Biological Sciences Division and the Hospitals--has been projected.
With so much revitalization afoot, University officials have decided to prepare a comprehensive master plan, establishing clear guidelines for campus improvements. As President Hugo Sonnenschein noted in his February State of the University address, "Anything we build on this campus must be first-class, must respect the University's rich architectural heritage, and must leave appropriate flexibility and space--both green space and developable sites--to meet future University needs."
"We want to develop a strategy for campus improvements rather than build in an ad hoc way," says Provost Geoffrey Stone, JD'71, who, along with faculty and trustee committees, is leading the master-planning process. "We increasingly find ourselves making important facilities decisions without an overall philosophy to guide us. A successful master plan will lay the foundation for the campus for the next 25 years."
This is the fourth time in its history that the University has prepared such a plan. The first, conceived by Henry Ives Cobb in the 1890s, materialized as the central quadrangles; the second, led by Eero Saarinen in the 1950s, located Regenstein Library and developed the South Campus; and the Sasaki plan of 1979 created the Science Quadrangle.
Each plan reflected its time, observes University Planner Richard Bumstead. Saarinen's vision was "very optimistic, very growth-oriented, and really didn't take into consideration the neighborhood constraints," says Bumstead. And while the Science Quadrangle captures the gravity of the cold-war era's drive for bigger, better research facilities, it lacks the welcoming intimacy of Cobb's central quadrangles.
"One thing that keeps coming up in our discussion of master planning," says Bumstead, "is that the main-quadrangle assemblage is the defining element" of the U of C. Duane Hickling--associate vice president for facilities--notes two elements of the main quadrangle's success: its uniformity and the interconnectedness of its buildings, a unity that "defines the exterior space" in a human scale that just "feels good to us." The current challenge is to create an open feeling analogous to Cobb's vision on a campus that has experienced ten decades worth of development and expansion.
This is not just a U of C phenomenon but a nationwide one, says Bumstead. "The days of unbridled growth on campuses are beginning to hit a brick wall. There are some schools where neighborhoods have gotten up and said, `This is it. We're not going to move any further.'"
Even if expansion were possible, "we need to be very mindful of its consequences," Bumstead says. "Because the worst thing you can do with an urban campus is sprawl it out. One of the nice things now is that this campus is very walkable."
"Bigger is not necessarily better," Hickling agrees. "At some point, more space drains away resources from other things." That's why the master-plan process will measure carefully the pros and cons of building new facilities versus renovating old ones.
"We've got a lot of wonderful buildings here that were built between 1893 and 1930," says Hickling. "Unfortunately, they're right at the point in their lives when you either have to do more reinvestment or demolish and rebuild. Given the quality and the soundness of the architecture, in most cases reinvestment is obviously the route we'd want to take."
One example of a building worth recycling is Bartlett Gymnasium. Its diminutive swimming pool and other outdated fixtures will be rendered superfluous when the new athletic center--with its Olympic-sized aquatic facility--is finally constructed. "But if we do renovate Bartlett," says Hickling, "the question becomes: renovate it to what? Do you put the admissions office there? Is it a campus visitors center? Might it be the Alumni Association's offices? Any and all of these could be good ideas but we'll need to think this through."
Even more perplexing is where best to place a massive new structure such as an athletic center. Hickling notes that when Regenstein Library was completed in 1970, "that changed the feeling of the entire campus." Likewise, "the athletic center will be a destination point for a huge number of people," creating a subsidiary ripple of concerns, such as traffic and parking. But the biggest challenge is to locate the center in a way that ensures its maximum use while retaining as much as possible the open feel of the campus space surrounding it.
As the master-planning committees examine the available space on campus, they will likely focus on current parking lots that could be developed into prime construction sites. "So we're going to have to deal fairly quickly with the issue of parking," says Richard Bumstead, "and one obvious solution at this point is that we're going to have to bite the bullet and put up some parking garages. That's going to be another big issue: how to discreetly locate those so they not only capture a lot of traffic and don't create havoc in neighborhoods, but are also going to be locations that people find convenient."
Despite such complicated questions, Hickling--who has experienced master-planning startups in his previous jobs at both the University of Southern California and the University of Wisconsin--is confident that the planning will transpire smoothly over the next two years. "It's not that the process takes so long in terms of drawing up plans. There's a gestation process: Ideas are floated and people need to cogitate on them, talk about them. There are several different constituents that need to be consulted--that's what takes the time."
"This is going to be an exciting process," Bumstead predicts. "So many master plans are done with very little strategic thought as to how they tie into the institution's overall vision and goals. The general feeling at this moment is: This is going to be a great moment in the University's history--now how do we go about making the most of it?"--Tim Andrew Obermiller
---
In this department:
Also in the Journal:
Plus items For the Record.
---
---
Go to:
---
Return to June 1997 Table of Contents