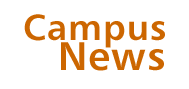 College Report
Students swing sports, studies
At many universities with strong athletic programs, the coaches and the admissions office are bitter enemies. Under pressure to put together the best team, some coaches beg or bully admissions officers into relaxing standards for athletically talented—but academically below par—recruits.
Not at Chicago. "My job is to find kids that our admissions office would want normally, who happen to be good basketball players," says Mike McGrath, head basketball coach since 1999. "I consider myself a representative of our admissions office." If that sounds like a recipe for athletic mediocrity, a glance at the basketball team's recent record proves otherwise. In 1999–2000, McGrath led the Maroons to a 23–4 record and the University Athletic Association (UAA) title. In 2000–01 the Maroons won the UAA title again and advanced to the "elite eight" of the NCAA Division III tournament.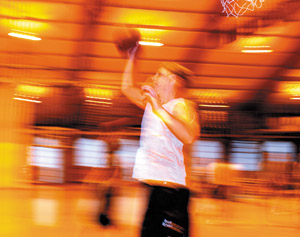 Recruiting scholar-athletes for sports such as basketball is a matter of research, not sales.
The secret, McGrath explains, is an exhaustive recruiting process with an unusual approach: "We look at recruiting as research, not sales." In the fall he and his assistant coaches send letters to 2,000– 3,000 potential recruits. The names come from many sources: services with which high-school athletes can register, for-profit services that sell student names, the admissions office, high-school coaches, parents, direct inquiries from athletes themselves. Interested students send back a form listing their athletic accomplishments as well as their grades and standardized-test scores.
Then the winnowing process gets brutal. Judging by grades and test scores alone, McGrath says, "We put the names in two piles: could potentially be admitted" and "no way in hell." Only 300–400 potential recruits are lucky enough to land in pile No. 1. Next the coaches evaluate athletic skill: "There's a wide range of talent in that pool," McGrath says. "Some kids think, 'It's just the University of Chicago' and don't recognize what a high level of competition it is."
Since 1987 Chicago has been part of the UAA, an NCAA Division III conference that also includes Brandeis, Carnegie Mellon, Case Western Reserve, Emory, New York University, the University of Rochester, and Washington University in St. Louis. The common thread, McGrath explains, is that all are "elite academic institutions in major metropolitan areas. We're competing against like institutions." Top universities like Harvard, Yale, Columbia, and Brown, in contrast, "are not competing against like institutions in Division I," says McGrath.
Some Maroon athletes, such as fourth-year Derek Reich, could easily have played in Division I. The school's all-time leading scorer, a three-time All-American pick, and three-time Player of the Year in the UAA, Reich is described by McGrath as "the best player I will ever coach here."
"There are definitely times where I'm watching Division I basketball on TV and tell myself I could compete at that level," says Reich, who hopes to play basketball professionally, perhaps in Europe, after he graduates—or, failing that, attend law school. "But I don't have any regrets," he says. "Our lives don't revolve around basketball all day and every day."
As a Division III school Chicago does not offer athletic scholarships, and players are called "student-athletes"—with the emphasis on student. Still, balancing sports and academics can be tricky, especially when the team travels. "It's very difficult, but it's definitely feasible," says first-year Clay Carmody, who considered several Division I offers before winning a full-tuition College Honor Scholarship to Chicago. "It just requires that you are an athlete and a student and nothing else."
The team's average GPA ranges from 2.8 to 3.2—not high enough for the Dean's List but in line with the rest of the undergraduate body. Occasionally an athletic star is also an academic one, such as All-Conference player Brad Henderson, AB'01, who won a Rhodes Scholarship. "We haven't had a ton of Brad Hendersons, and we haven't had a ton of kids who struggle," McGrath says.
"One thing about coaching here is you really have to explain," reflects McGrath, who once asked an athlete why he couldn't simply follow instructions instead of critiquing them. "He said, 'Coach, in the classroom we're taught to try to make Nobel Prize–winners look wrong. You better believe we're going to challenge you.'"
— Carrie Golus, AB'91, AM'93