Richard Epstein — Parking and Property
A hallowed tradition allows Chicago car owners who shovel out post-snowfall parking places to retain squatting rights—often staked out by tired-looking tables or chairs—until the streets are plowed or the white stuff melts. "Dibs in the snow" is a winter way of life to the city's drivers, but to Richard A. Epstein it's also an intellectual puzzle.
For Epstein, the James Parker Hall distinguished service professor in the Law School, dibs is all about property rights, "a long-term research interest of mine," he wrote in an e-mail from snow-free Palo Alto, California, where he spent winter quarter as a senior fellow at the Hoover Institution. "Finding the optimal mix between private and common property covers an enormous range of issues."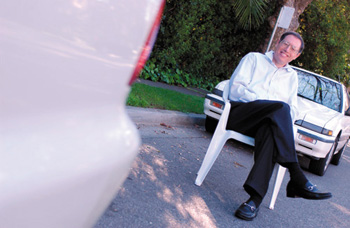 His analysis of dibs—part of a 2001 working paper, "The Allocation of the Commons: Parking and Stopping on the Commons"—weighs the system in pluses and minuses. Yes, dibs reduces available parking spaces, but it also rewards those who have put the effort into the job. Would the shovelers spend all that time if they only got to use the space just once? In this way dibs provides "a trade-off not dissimilar to that found in the patent and copyright law. The initial digger of the spot is given a limited monopoly for its use." As with patents and copyrights, the question becomes, What ought that duration to be?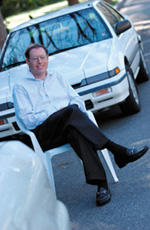 "This issue is really critical," Epstein noted. "This past weekend I was at a conference on copyright, and the question of the commons lurks very large in intellectual property. Do we want to have shorter or longer protected terms? Do we allow for the patenting or copying of software? When do drugs fall into the commons?"
Although the theoretical issues posed by dibs drive Epstein's research, the longtime Hyde Parker also cites local stimuli: "I was on the north campus planning group where parking was a bear; I saw the empty spots near Giordano's when I went for pizza. And who could forget watching those chairs in parking spots in winter?"
—M.R.Y.

---
Select an expert:
Riccardo Levi-Setti - Trilobites
Richard Epstein - Parking and Property
Mary Anne Case - Toilet Inequities
Roman Weil - Vintage Wine
Robert Grant - Sunken Submarines
David Galenson - Poetic Values
John Milton - Poise and Noise