Mary Anne Case — Toilet Inequities
How long do you think this will take?" Mary Anne Case asks the photographer. "I hate to take up the biggest, most accessible women's restroom during exam week." It's a concern that fits the Law School professor's ongoing, anecdotal research: the toilet survey.
The questionnaire asks patrons of restaurants, stadiums, and other public places to mark how many stalls and urinals are in the men's room and how many stalls and urinals—if any—are in the ladies' room. It asks what additional "services" each offers: mirror, vanity table, chair, fainting couch, attendant, baby-changing table, nursing or breast-pumping station. It asks the length of the line.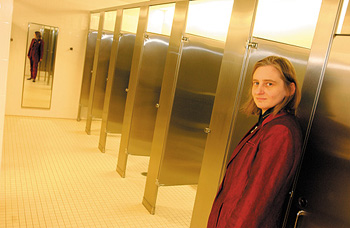 Lines for public bathrooms, one of the last supposed vestiges of "separate but equal," regularly show the facilities are anything but. "What's most often equalized is square footage," Case says. But because urinals are smaller than stalls, "men are almost always offered more excreting opportunities than women," which likely accounts for longer women's lines—not women simply taking longer. And more of the space in women's bathrooms, she notes, is filled with vanity tables, fainting couches, and baby stations.
The project—after several years she's collected hundreds of surveys for a planned law-review article—was spurred by Case's research into the history of constitutional arguments for equal protection of the sexes. Believing the law rarely should distinguish between males and females, she advocates "a model akin to the typical airline toilet," providing ultimate privacy without segregation (though she's learned that many women prefer a same-sex environment).
The survey also gives men and women "a sense for how the other half lives," Case says. For instance, when she visited a New York children's museum, a male companion saw a poster in the boys' room asking, "Who can 'go' faster? It takes men about 45 seconds to urinate (pee). It takes women about 79 seconds to urinate. How do you compare to the average? Ready, Get Set, GO!" No such poster, Case confirmed, was in the girls' room.
—A.B.
---
Select an expert:
Riccardo Levi-Setti - Trilobites
Richard Epstein - Parking and Property
Mary Anne Case - Toilet Inequities
Roman Weil - Vintage Wine
Robert Grant - Sunken Submarines
David Galenson - Poetic Values
John Milton - Poise and Noise