The University of Chicago Magazine February 1996
---
Return to February 1996 Table of Contents
---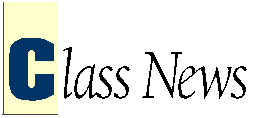 ---
What's the news? We are always eager to receive your news at the Magazine, care of the Class News Editor, University of Chicago Magazine, 5757 Woodlawn Ave., Chicago, IL 60637, or by E-mail: uchicago-magazine@uchicago.edu.
To write us with your news directly, click here for our e-mail form: uchicago-magazine@uchicago.edu.
No engagements, please. Items may be edited for space. For that reason, starting with the February/96 issue we will no longer list all of the U of C alumni present at a wedding, but only those alumni who are relatives or were members of the wedding party. As news is published in the order in which it arrives, it may not appear immediately.
Please specify the year under which you would like your news to appear. Otherwise, we will list: (1) all former undergraduates (including those who later received graduate degrees) by the year of their undergraduate degree, and (2) all former students who received only graduate degrees by the year of their final degree.
---
Within Class News:
---
Franklin Bacon, Jr., AM'50, see 1946, Evelyn Crary Bacon. Harris L. Dante, PhD'50, emeritus professor of history and education at Kent State University, reports that daughter Nancy Dante Bennison, MAT'70, is a librarian at Goffstown (NH) High School, while son-in-law Victor L. Bennison, SM'75, PhD'76, is a computer scientist for Voice Tech Co. Dante's son, John H. Dante, AM'71, is financial planner and vice president of the Robert Heiman Organization in Chicago. Harry D. Eshleman, AB'50, emeritus professor of English at Kutztown University of Pennsylvania, was elected president of the Pennsylvania Poetry Society in October. Don K. Moeller, AM'50, retired in 1989 after 39 years in industrial relations and general management in the trucking, electronics, printing, and newspaper industries. Moeller now lives 300 feet above Clear Lake, the largest natural lake in California, and enjoys life more than ever. E. Anne Garvey Phillips, AM'50-a textbook author since 1970 and a freelance writer and editor since retiring from 24 years of teaching college English in southern California-reports that Wadsworth ITP Publishing has printed a fourth edition of her college textbook, Steps to Reading Proficiency. Her son, John, is a mathematics professor at California State University, Northridge; his late father and her late husband, Henry A. Dye, SM'47, PhD'50, was a mathematics professor at UCLA.
51
Reunion May 31-June 2, 1996

Thomas F. Ednie, AB'51, SB'53, MD'55, retired in August. Richard J. Neudorfer, MD'51, practices orthopaedic surgery in White Plains, NY, on a reduced schedule, and still enjoys it. Clifford B. Reifler, AB'51, recently retired as director of the University of Rochester's health service and became professor emeritus and director emeritus. He serves on the medical-school admissions committee, edits the Journal of American College Health, and serves on the board of the Seneca Zoo Society. Reifler and Barbara, his wife of 41 years, travel the world visiting zoos. Esther Millman Sparks Sprague, AB'51, retired from W. Graham Arader Gallery and will teach at the University of Mississippi in the spring and Valparaiso University in the summer.
52
Joan Blair Florence, AB'52, received her M.A. in museum studies from San Francisco State University in June. Richard Y. Reed, PhD'52, see 1938, Margaret Fox Reed.
53
Daniel Saltz, AB'53, SB'54, retired as a professor of mathematics at San Diego State University in July. David G. Utley, AB'53, AM'60, spent the winter of 1994-95 in Ukraine as adviser to the National University of Kiev-Mohyla Academy, which is introducing a liberal-arts curriculum to Ukraine. In September, he returned to Bratislava, where he spent 1991-92, and is now a senior adviser to the Slovak Foreign Policy Association. In April he will begin as president of the University of Wisconsin-Eau Claire Foundation and executive director of university advancement.
54
J. Parker Hall III, X'54, a U of C trustee, continues as president of Lincoln Capital Management in Chicago. His wife, Julie, is head of North Shore Country Day School. William B. Wolf, PhD'54, professor emeritus at Cornell, lives on Whidbey Island in Clinton, WA, where he consults and writes. The Academy of Management's consulting division recently gave him its Founder's award. His two books on Chester I. Barnard and an article on the history of management thought will be published soon; an article on Barnard appeared in December. Currently researching James Oscar McKinsey, Wolf welcomes any information about the McKinsey Firm at 7884 S. Scatchet Head Road, Clinton, WA 98236-9768.
55
Frank E. Richards, AB'55, SB'61, SM'62, PhD'73, goes contra dancing-"which is like both going to a concert and playing a sweaty game of basketball"-at least weekly in Madison, WI. He adds, "There are three Latin American sister-city groups, while Nicaragua is Wisconsin's sister state; all of which can use our help."
56
Reunion May 31-June 2, 1996

Ethel Spector Person, AB'56, SB'56, a psychiatrist and psychoanalyst, is a trustee of the Menninger Clinic, a national center for mental-health treatment, research, and education. Joan Williams, DB'56, is resident minister at Kendal, a retirement commmunity in Hanover, NH, after serving eight churches in New England.
57
Marian B. Bower, AM'57, retired as educational administrator of St. Luke's Hospital School of Nursing in Racine, WI, in 1979. The president of the Nurses Foundation of Racine, which provides scholarships to local nursing students, Bower has been traveling in Europe and Israel. Lucille Williams Boysaw, AM'57, was appointed as a congressional consultant to the Second Congressional District by the AARP. Ruth Eliason Rossiter, AM'57, writes, "The older I get (82 at present), the more I appreciate the years I spent at U of Chicago!"
58
Marto A. Ballesteros, AM'54, PhD'58, retired from the World Bank and moved to Tucson, AZ, where he is enrolled in a docent-training course at Tohono Chul Park. Elsa Littman, AM'58, has been a therapist at Family Service Association in Michigan City, IN, for nearly five years. Semiretired from social work, she is a licensed minister in the Church of the Brethren and has "begun to give spiritual direction in connection with Shalem Institute's spiritual-guidance program." George Macesich, PhD'58, is the author of Successor States and Cooperation Theory (Praeger Publishers) and Monetary Reform in Former Socialist Economies (Praeger Publishers). William P. M. McNiff, MBA'58, would appreciate hearing from Air Force members who received their M.B.A.s from the GSB in June 1958. Stephen L. Michel, SB'58, MD'62, has relocated to Boca Raton, FL, after 33 years in Los Angeles. He has joined a multispecialty physicians group and wonders if any U of C alumni are in the area.
59
Max O. Biltoft, MBA'59, retired from the Air Force and lives in Cocoa Beach, FL. Busy with volunteer activities, his major hobby is researching and advising on investment opportunities. Robion C. Kirby, SB'59, SM'60, PhD'65, received the National Academy of Sciences award for scientific reviewing in April in Washington, DC. John D. Proffitt, JD'59, a partner in the Carmel office of Campbell Kyle Proffitt, is 1995-96 president of the Indiana State Bar Association. Larry F. Waltman, AM'59, retired as a colonel from the Army Reserve after more than 30 years. He teaches at American University.
---
Go to:Return to February 1996 Table of Contents