The University of Chicago Magazine June 1996
---
Return to June 1996 Table of Contents
---

---
Walls and Bridges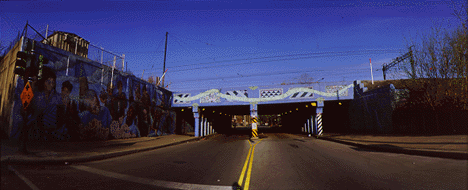 I Welcome Myself to a New Place (1988)
C

onceived to help bond the primarily African-American Roseland district and its mostly white neighbor Pullman, this 7,200-square-foot mural takes its name from a line of poetry written by one of Gude's former high-school students: "I welcome myself to a new place where all the people can join on in together."

Gude and husband Jon Pounds-Pullman residents-teamed with artist Marcus Akinlana and went door-to-door asking for support. Over nine months, more than 100 people from both neighborhoods helped to raise funds and to create the mural, located at 113th Street and Cottage Grove under the Metra railroad tracks that divide Roseland from Pullman. The mural features historical figures from both communities; African, European, and Native-American craft patterns; Dutch farmers; and a contemporary black family.

Several years after finishing the project, while working on the Hyde Park mural (above), Gude was approached by a young man from Roseland, who, unaware of her involvement, related the making of the Roseland-Pullman mural. "That was such a great gift, to have that story come back to me," she says. "Instead of this child growing up with only an image of neighborhood segregation, he has a very powerful image of the possibility of cross-racial cooperation."
---
The Murals of Olivia Gude, MFA'82
---
Go to:
Return to June 1996 Table of Contents