The University of Chicago Magazine June 1996
---
Return to June 1996 Table of Contents
---

---
Fresh Air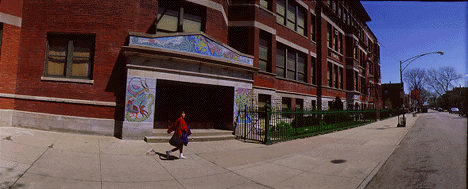 The Lowell Centennial Mosaics (1994)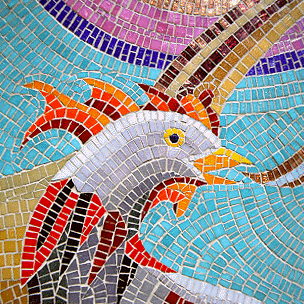 M

ade of Venetian glass tesserae (tiles), these mosaics frame two entryways of James Russell Lowell School, marking the school's 1994 centennial. Two of them cover ground-level windows that were bricked over for security reasons, a not-uncommon practice in Chicago's public schools.

"We 'opened' the windows," says Gude, referring also to Beatriz Santiago Muñoz, Juan Chavez, and members of Youth Service Project. She cites a European tradition of reinventing a space in response to contemporary times, rather than the American way in which old buildings are either destroyed, or deemed historic and left untouched. "It's not defacing a historic building," she adds, "It's adding something at a level of complexity and beauty that really is architectural."

In recent years, Gude notes, Chicago Public Art Group has completed several similar projects with Chicago schools, in conjunction with school reform: "Physically working with the architecture becomes part of what it means to have local control of schools... what's going to be taught in the school, what's going to be imagined in the school, what that school means to the community."







---
The Murals of Olivia Gude, MFA'82
---
Go to:
Return to June 1996 Table of Contents