The University of Chicago Magazine October 1995
---
Return to October 1995 Table of Contents
---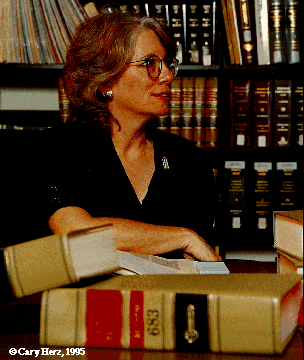 She's used to fighting for herself. Now Roberta Cooper Ramo-the first woman president of the American Bar Assocation-is going on the offense for 370,000 of the nation's lawyers.
By Kimberly Sweet
Photograph by Cary Herz
At this moment, Roberta Cooper Ramo has everything any Superwoman ever wanted. A challenging career at a major law firm. A husband of 31 years and two children, a son and a daughter. A second career, officially begun on August 9, as 1995-96 president of the American Bar Association.
Of course, right now isn't always. While Ramo, JD'67, says her family life has been nothing but wonderful, she's described her legal career to the ABA Journal as "probably checkered." Among the darker spots: graduating from the U of C Law School only to find that most employers weren't too keen on hiring a married woman; losing a fellowship because giving birth interrupted the training program; failing in her first bid for the ABA presidency; and losing her law firm, Poole, Kelly & Ramo, to bankruptcy.
But Ramo, 53, subscribes to the "try, try, again" school of thought. Take, for in-stance, her reaction to the rigors of finding law-firm jobs at a time when women composed only about 5 percent of lawyers. "Sometimes," she says, "what I really thought was that there must be something wrong with me, and that I just wasn't up to people's standards." Her response was "to just call one more person. And just keep at it until I got what I needed then."
That persistence, applied to preserving the legal tenets Ramo embraces and to tackling the issues facing the ABA, translates to an activist approach to her presidency. Though the former chair of the ABA's Law Practice Management Section is the first woman president in the association's 117-year history, her agenda doesn't revolve around women's issues. She does, however, spearhead the ABA's National Commission on Domestic Violence ("a family issue"), which she launched as president-elect and which will remain one of her priorities.
An ardent constitutionalist and former student of constitutional scholar and Law School professor emeritus Philip Kurland, Ramo is battling
CONTINUE READING "The Best Defense"
---
Go to: Return to October 1995 Table of Contents