The University of Chicago Magazine June 1996
---
Return to June 1996 Table of Contents
---

---
Seeds sown for a lusher campus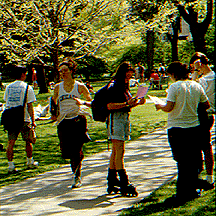 The University is getting closer to nature with an ongoing landscape-improvement project. "The campus has always been beautiful," says Richard Bumstead, planner in Facilities Services, "and our goal is to make it truly spectacular."
The project, begun this spring, has so far focused on the main quadrangles, with enlarged planting beds placed along the walkway and hedges planted around the perimeter. Workers pruned the main quad's lush canopy trees, and planted new trees to replace those lost to disease or old age.
In designing the plan, Bumstead was conscious of the need to preserve the sunny openness of the main quads, which continue to be a popular gathering spot for students, faculty, staff, and the inevitable cadre of squirrels.
Also under development are a comprehensive plant-labeling system and a brochure outlining walking tours and the history of the campus landscape-elements that "tie into the educational aspirations for the gardens," says Bumstead, "which can serve as an outdoor classroom as well as a community resource."
The changes so far have gotten a warm review, especially at this spring's reunion. "Alumni were very enthusiastic about what we'd done, and what we're planning to do." Alumni and friends of the University will have an opportunity, he says, to simultaneously make contributions to the University and beautify the campus by having a tree planted, or an entire garden named, in their honor. With 90 total acres of campus grounds, there should be no shortage of opportunities to help. For more information, contact Bumstead at 702-1700.
---
In this department:
Plus items For the Record.
---
---
Go to:Return to June 1996 Table of Contents