The University of Chicago Magazine June 1996
---
Return to June 1996 Table of Contents
---

---
Chicago sports hit new high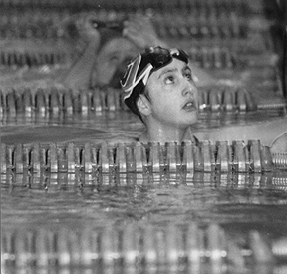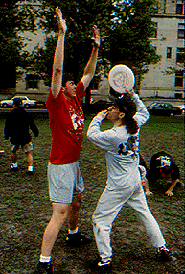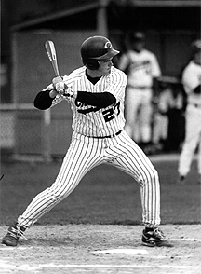 Top jocks: Top to bottom, All-American swimmer Margaret Pizer checks her time; the intramural frisbee football championship on the Midway; sophomore pitcher Mike DeFant prepares to hit his opponent's curve.
Sports continued to enjoy a renaissance this spring, fueled by "the commitment to intercollegiate athletics that the University has made over the last several years," says Tom Weingartner, associate professor and chair of physical education & athletics.
This spring, the men's baseball team finished 22-12-1, the most successful season in its 103-year history, while women's softball went undefeated to capture their first-ever UAA Championship Tournament title. Earlier in the year, the football team had its best season in nearly a century and men's basketball posted its best record in 35 years.
Individual performers also excelled: Third-year swimmer Margaret Pizer and second-year wrestler Neal Rodak both earned All-America honors.
Why the current championship run? Weingartner believes the key has been the recruitment of "quality faculty coaches who have reinvigorated our programs. This, in turn, has allowed the coaches to attract and recruit strong student-athletes."
"We are still a Division III school and will remain so," says Weingartner, a message to alumni worried that Chicago's sports resurgence may mean a return to the heady days of Big Ten competition-competition that University leaders like Robert Maynard Hutchins believed would distract the school from its academic pursuits.
Students as a whole apparently see no conflict between a healthy mind and a healthy body: the Henry Crown Field House had a record high 3,200 students, faculty, and staff pass through the turnstile in one day this past winter quarter.
Says Campus Sports director John Angelus, participation in non-varsity organized sports such as intramural and club events also broke records this year, with a total of 7,835 students competing.
"We may have counted some heads twice," Angelus concedes, "but the fact remains that a lot of students are getting into this." Especially big now are club sports like rugby and crew that actually compete in large tournaments--although the credo for all these sports remains "fun first," says Angelus.
Meanwhile, a committee has been appointed to prepare plans for a new, state-of-the-art center for recreation and athletics. Those plans include an Olympic-sized, 50-meter pool that should truly put Chicago athletics in the swim of things.
---
In this department:
Plus items For the Record.
---
---
Go to: Return to June 1996 Table of Contents