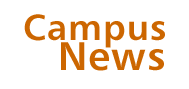 Chicago Journal

Doing business vicariously
After winning the University's New Venture Challenge, a GSB student launches his plan to connect small businesses with marketers.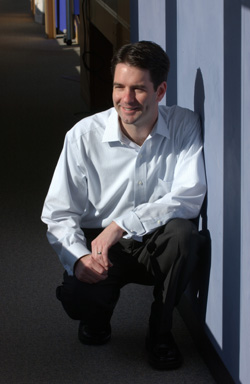 Photo by Dan Dry
In contrast to the dark, industrial-gray hallways of the Chicago Sun-Times building and the bustling activity of the neighboring FOX News offices, Vicarious Communications is a sunny mix of red, blue, and yellow walls. Only three full-time staff are camped on the edge of an expanse of unoccupied cubicles. It's pretty quiet, but while CEO and Graduate School of Business (GSB) evening student Michael Moyer concedes that business might not be "booming," he hopes that his start-up will get started soon.
The 32-year-old Moyer has reason to be hopeful: he won $25,000 in this year's New Venture Challenge (NVC), an annual GSB business-plan competition. Moyer's brainchild is a marketing system to allow small businesses such as hair salons and orthodontists to increase sales without violating ethical and governmental regulations against releasing customer information to manufacturers. Lacking time and training, an orthodontist, for example, is less equipped to sell any particular product—say, cinnamon-flavored braces—to a target customer—perhaps a young woman who thinks her teeth are crooked and likes cinnamon—than is the manufacturer. But without customer data, the manufacturer can't identify targets as well as the orthodontist.
Vicarious Communications, Moyer says, will bridge that gap, providing software that lets the orthodontist browse available advertising campaigns, identify target customers, and send marketing materials—without sharing customer information with the manufacturer. Because businesses will send client information only to Moyer's company, and not a host of manufacturers, those businesses regulated by the Health Insurance Portability and Accountability Act (HIPAA), such as orthodontists, must obtain only one customer-release form.
Though Moyer, with a master's degree in integrated-marketing communications from Northwestern, began developing his marketing software concept five years ago, he created a similar—though low-tech— company in 1990, as an undergraduate at the University of Kansas. With a six- to eight-person staff, Banana Graphics ran programs for businesses including Nantucket's Bamboo Lounge, trading hats and T-shirts for customer names and addresses, which were then added to catalog mailing lists. "It worked really well," Moyer says, "but we didn't have computers back then. We were keeping our database on index cards."
Vicarious Communications, on the other hand, only became possible after small businesses embraced the Internet. But before Moyer could get online, he had to get his idea out of the ether and onto paper, a process that began more than a year ago with the launch of the 2003 NVC. Part of the GSB's Polsky Center for Entrepreneurship, the seven-year-old contest, sponsored by Zebra Technologies' Edward Kaplan, MBA'71, is an annual business-plan competition that awards seed money to the most promising prospective start-up. To form his team, Moyer recruited fellow GSB student Alyson Tesler and a non-GSB former colleague from HyperFeed Technologies, Adam Schuler.
The first step was preparing an executive summary—a brief description of the business's market, strategies, and objectives—to compete for a spot in a spring-quarter seminar class taught by clinical professor of entrepreneurship Ellen Rudnick, who heads the Polsky Center. Once in, Moyer and the other teams' GSB members presented their ideas to venture capitalists, refined them according to the (sometimes harsh) criticism they received, and presented them again until they completed the course with a polished plan.
In the final phase, eight of the 25 original teams gave formal presentations at the Gleacher Center, where Vicarious Communications beat out second-place-winners Green Hedges (insurance-industry financial services) and Iterative Therapeutics (antibody-therapy development), both of which received $12,500.
Winning the NVC, Moyer says, means "I've gotten to the point where I have an investment. Back then it was an idea and a PowerPoint presentation." Vicarious Communications, which begins with the veterinary industry this fall and expands to dentistry next year, is ready to launch the software, which will bring in revenue, but still needs funding for further development.
"This is definitely an angel company," Moyer says, meaning that wealthy individuals, or "angel investors" (as opposed to large venture-capital firms), will most likely provide the capital needed to expand. And that's the sticking point—though he's been frugal with the prize money, using it to fund market research and software development, raising additional capital is more difficult than he imagined. "Everyone says, 'Oh, it's hard to raise money.' If you really want to learn how hard it is to raise money, I can tell you, because I've been in it." But the present lack of funding doesn't stop Moyer from thinking ahead. With software that can be tailored to any number of small businesses, he says, "three, four years down the road, I see us becoming experts in this process in different industries so we have hair salons and ophthalmologists and chiropractors and dermatologists..."
Of past NVC contestants, 25 have gone on to become viable companies. Of those, nine have merged or been sold, including Flyswat. Designed by John Rodkin, a current GSB and Law School student, and Ray Krouse, MBA'99, the Web-browsing program was bought by NBCi three years ago for $100 million. That's the kind of precedent Moyer hopes to follow.—A.L.M.