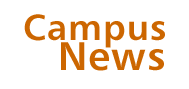 College Report
W's friends, foes look to 2004
More than a year before the 2004 election, undergraduates across the political spectrum are campaigning—or making plans to campaign—for their preferred presidential candidates.
Photo by Lloyd DeGrane
Annie Sanders, '06, for one, became passionate about politics as a first-year, influenced by "liberal-minded," politically aware friends and a campus that "gets you thinking about a lot of things," she says. "I started reading the newspaper."
Sanders, who heads Students for Dean on campus, volunteered this summer for Democrat Howard Dean's campaign in Madison, Wisconsin, her hometown. She set up information tables at farmers' markets and the county fair, speaking to the curious, including people who had never heard of the former Vermont governor, who's had early fundraising success.
Dean's "easy and open manner," what she believes are his unwavering positions on issues, such as his opposition to the war in Iraq, and her confidence that he can unseat President George W. Bush are what attract Sanders. But first Dean must win the Democratic primaries, where his strongest rival, Sanders predicted in August—before General Wesley Clark joined the race—would be Senator John Kerry of Massachusetts.
As Students for Dean resumes activity during fall quarter, says Sanders, volunteers will set up information tables around campus, send letters to "voters in key states," and hand out flyers in Hyde Park. Sanders, a cross-country and track runner, will campaign during her rare moments of free time—"nights and Sundays."
Besides "tabling" in Madison this summer, Sanders attended Dean events. She was among several College students at an August 26 rally at Chicago's Navy Pier waiting on a crowded, steamy rooftop terrace—temperatures were in the mid-90s—to hear Dean speak.
Alexis Saudargas, '05, a Kerry supporter "interested in possibly being convinced" to support Dean, remarked that Dean is the favorite among college Democrats. "I think college students in general are more rebellious and like the insurgent candidate." Sanders, who noted that 40 students were already on her organization's e-mail list, agrees that Dean is the favorite among "idealistic and angry" undergraduates. "There's a fire behind him."
Before Dean delivered his antiwar, anti-Bush message, the crowd—all ages and mostly white—chanted slogans: "No more Bush," "No more Ashcroft," and "We're hot for Howard"—referring to the weather as much as their passion for Dean.
Burcu Yavuz, '05, carried a "Howard Dean for America" sign. Calling Chicago "a liberal school," she figured Dean would have much campus support. Her assertion, however, would come as news to rally attendee David Joel, AB'72, who didn't believe many Chicago undergraduates would be there; to him "they're all Republicans."
Perhaps not all, as at least six College students joined the Dean rally, but the GOP does have significant Chicago representation.
Few campus Republicans have begun work on Bush's reelection campaign—without a primary to worry about, Bush has some time before actively seeking votes. Instead they are focusing on Illinois's U.S. Senate race, says former College Republicans president Jason McCabe, AB'03. But once Bush's serious campaigning begins in June 2004, the group will switch to presidential politics.
Political-science concentrator Justin Palmer, '04, plans to aid the Bush cause. The Lake Forest, Illinois, native has worked on several Republican campaigns and led Chicago's Students for Bush-Cheney in 2000, when he made signs for rallies—his favorite was "'W' is for women"—and worked the phones, visited door-to-door, and mailed letters to prospective Republican voters.
"On the whole I've found [campaigning] very rewarding," he says, though he admits that "it's very, very hard work." Rather than writing speeches or socializing with high-profile candidates, college volunteers often find themselves "licking lots of envelopes."
The day of the infamous Bush-Gore election, Palmer rose at 4 a.m. for some last-minute campaigning—mostly chauffeuring fellow volunteers around Chicago—and as a result was too tired to watch the late election-news coverage. "I figured I'd read who won in the paper the next day."
Attendance at College Republicans' meetings has risen in recent years, says Palmer, director of the organization's campus operations, in part because of growing U.S. conservatism after the September 11, 2001, terrorist attacks.
As far as he knows, Palmer has not won over any Democrats, but his efforts to promote the GOP have not been in vain. "I convinced some of my Libertarian friends to vote for [Bush]" in 2000, he says, by telling them that Bush was "the better of the two [candidates]" on issues such as tax cuts. "You know how Libertarians are."
But tax cuts are not his primary reason for supporting Bush. His conservatism stems from a sense that Republicans in general—and Bush in particular—are better on foreign-policy issues. "We need somebody [in the White House] who's not afraid to take on the Saddam Husseins of the world," says Palmer, who carries a camouflage-patterned cell phone, was a Reserve Officers Training Corps member in 2000–01, and spent summer 2002 as a Pentagon intern.
Palmer also has admiration for Bush himself. "I like the fact that he is a religious person" and that he shows respect for Islam and Muslim Americans, which, Palmer believes, not all conservatives do. "I don't like Ann Coulter."
And which Democrat does Palmer think has the best chance in 2004? He answers like a seasoned pol: "None of them."—P.M.