The University of Chicago Magazine October 1995
---
Return to October 1995 Table of Contents
---
Legends of the Fall
---
Saint Amos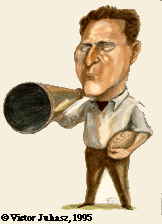 The forward pass, numbered jerseys, and tackle dummies were but a few of the inventions contrived by Amos Alonzo Stagg during his six-decade career. But an even more enduring contribution to the sport, writes Robin Lester in Stagg's University, was the Chicago coach's unshakable faith in football's power to shape virtuous men: a conviction used to justify football's presence--and eventual dominance--in American higher education.
Stagg, who once planned to be a minister, regarded the coaching profession as "one of the noblest and perhaps the most far-reaching in building up the manhood of our country" and "a fine chance to do Christian work." In his evangelical zeal to push football at Chicago, writes Lester, Stagg displayed traits of a medieval saint: He was "long on focus, short on perspective" and "not above assuming the martyr's mantle, so much so that he came to identify his own best interests with those of his institution."
For William Rainey Harper--the man who brought the 30-year-old Stagg to Chicago in 1892--football's appeal had little to do with "Christian work." Like many a university president since, he saw the game's potential to give his institution a national presence and to court the city's high society, for whom the school's more scholarly virtues lacked appeal.
Under Harper's uncritical protection, Stagg quickly inflated to 800-pound-gorilla proportions. When, for example, a University comptroller requested justification for some football expenditures, Stagg complained to Harper and the request was quietly withdrawn. And when the extension department asked to borrow some gym bleachers for an outdoor event, the coach played Grinch, demanding a rental fee.
A rare chink in Stagg's armor appeared in 1905 when a survey revealed that 18 players had died and 159 were seriously injured on college football fields that year, prompting a national outcry. At Chicago, faculty even debated whether to ban the sport, but backed down in the face of student and alumni pressure. For the next two decades, Chicago football was given free rein as the Maroons dominated the Big Ten and their coach--already nicknamed the game's Grand Old Man by age 40--"received more coverage and adulation" than any other University figure, not excepting its Nobelists and presidents.
Such adulation reached fever-pitch in 1924, when Stagg's brilliantly designed defense against halfback Harold "Red" Grange bought his team a 21-21 tie against Illinois. The fact that the draw was seen as a moral victory for the Maroons also showed how hard it had become for Chicago and its elite private peers to compete against state schools, whose huge enrollments and relaxed admissions policies gave them a distinct recruiting edge.
Although U of C President Robert Hutchins is popularly seen as Chicago football's vanquisher, the sport was clearly in decline well before his 1929 inauguration. Knute Rockne's Fighting Irish became the area's new gridiron kings while former fans deserted the Maroons in droves--from 1926 to 1929, game attendance dropped more than 50 percent. By 1928, the team's fall seemed irreversible, as it lost seven games and only barely managed to defeat Lake Forest College for one of its two wins.
If losing left Stagg vulnerable, many alumni were nonetheless incensed when Hutchins refused to postpone (for the second time) the Old Man's mandatory retirement in 1933. Stagg's replacement, Clark Shaughnessy, bravely tried to keep the Maroons competitive and, later, simply to keep them alive, but as the 1930s ended, University trustees were earnestly discussing whether varsity football at Chicago should be put out of its misery.
A 0-85 pounding by Michigan helped seal that decision in 1939, but it was a 1938 loss at home to California's College of the Pacific that symbolically ended Chicago's Big Ten football legacy. Coaching Pacific to its 32-0 win was none other than 76-year-old Amos Alonzo Stagg, who had brought the team out of obscurity to become one of the West's finest.
The victory also provided vindication for Stagg, erasing the memory of his brief years of defeat at Chicago. He coached into his nineties and died--in 1965 at the age of 102--by all accounts a revered and happy man.
In his final years, Stagg turned down a lucrative Hollywood offer to base a movie on his life. No surprise: As Lester notes, "It is probable that he personified, for many Americans, a purer, less materialistic, Christian America that had been lost." While college football had long since costumed itself in the facile, glittery values of Tinsel Town, Stagg had been cut from more durable, if sometimes uncomfortable, cloth.--T.A.O.
"Local Hero": Walter Eckersall starred as the Maroon's quarterback--and later as a sportswriter for the Chicago Tribune. But he struggled in the classroom.
Return to opening of "Legends of the Fall."
---
Go to: Return to October 1995 Table of Contents