The University of Chicago Magazine October 1995
---
Return to October 1995 Table of Contents
---
Digital Vision
---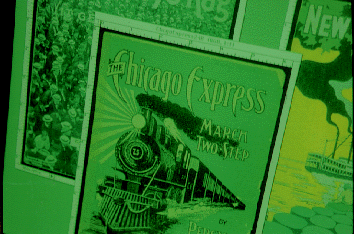 Like each of Robert Winter's CD-ROMs, the converted garage in his Santa Monica bungalow manages to contain a small universe: a library of books, tapes, and CDs, plus all manner of electronic equipment; a treadmill; a map of old Vienna; family photos; and two of the nine grand pianos distributed among his home, UCLA office, and the nearby offices of Calliope Media.
Whatever's next on his schedule this August afternoon might as well not exist. Winter's welcoming and engaged, his 6-foot frame energized as he shoots back "interactive" explanations (ask a question, and you're likely to get a question in return) reminiscent of his programs' vivid style. If the academic world once raised an eyebrow at those programs, no longer, it seems: Winter and his wife, Julia-the couple married in 1985-are weighing offers of endowed chairs he's received from two major universities. At 50, he jokingly muses, "My time has come. It's OK to be me now."
At Calliope, time has come all too soon, with just three months left to complete the new CD-ROM, Robert Winter's Crazy for Ragtime. For its author, Ragtime is the continuation of an American cultural history-to include programs on Gershwin and jazz, and on the roots of rock-that he began with his Dvovrák CD-ROM. Each musical guide traces a "pivotal moment" in this story; ragtime (for "ragged time"), he asserts, is when "American popular culture assumes the dominance it still has today."
Turning to his computer, Winter offers an impromptu tour of the work in progress. Among the new features: An elegant, sepia-toned map points to sections on ragtime centers across the United States. "Make Your Own Rag" lets the user play composer. And, for the first time, there's video-point the mouse, click, and two silent-movie clips play across the screen, one showing blacks, the other whites, dancing nearly identical cakewalks.
At the core of the new program are Winter's performances of some 60 rags-chosen from 1,500 pieces whose scores he researched. All the rags (about 20, he believes, have never been recorded before) appear on the multimedia program, and on several high-quality audio CDs that might be sold with the CD-ROM. And in a new twist, he's recorded all 60 in both digital audio and a MIDI format, allowing a new level of interactivity: In mid-song, one can switch from Winter's piano to a special recording in which the tempo, key, dynamics, or even instrument can be changed. Why not, he kids, score "Stars and Stripes" for the slide guitar?
That evening, in the airy spaces of Calliope's offices a few blocks away, Winter, accompanied by Julia and 8-year-old daughter Kelly, demonstrates the technological wonder that makes this possible. In the high-ceilinged recording studio is the computer-era equivalent of a player piano: a $70,000 Yamaha grand piano outfitted with solenoids and sensors to record and play a MIDI facsimile of Winter's performance.
Tapping away at a computer in the studio's control booth, Winter calls up a recording-not coincidentally, James Scott's "The Calliope Rag." The Yamaha recreates his lilting, nostalgic performance exquisitely, even the subtle shadings of dynamics and tempo. It's a strange sight: The pianist is standing several paces from the piano, listening to his recital.
It's hardly his first. Winter's been playing ragtime-a music of "sad joy," he says, "at its best to be taken as seriously as one would a Klavierstück of Brahms or an étude of Chopin"-since his graduate-student days. He returns to the control booth to "play" another rag, then another, while Julia and Kelly call out requests. Each example has a larger point to make. An 1897 tune by Tom Turpin marks the genre's beginnings. A late Scott Joplin piece, which seems to lack all the expected syncopated rhythms, dates almost to the end, when by World War I ragtime had started giving way to a new, improvised form: jazz. But tonight, the music still lives. "Just one more," Winter says several times.
For his wife, daughter, and guest, it's getting late; Kelly has long since curled up on the floor. But it's still early for Robert Winter, who'll stay here to record until 2 or 3 a.m.-there's so much to do in the remaining time. When the music's just right, when Winter's sure he's nailed the piece, it will go onto the disc, gracefully inviting you to play along.
Return to opening of "Digital Vision"
CLICK HERE FOR A "Robert Winter Glossary."
---
Go to: Return to October 1995 Table of Contents