The University of Chicago Magazine June 1996
---
Return to June 1996 Table of Contents
---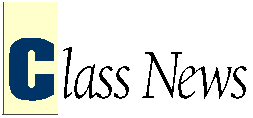 ---
What's the news? We are always eager to receive your news at the Magazine, care of the Class News Editor, University of Chicago Magazine, 5757 Woodlawn Ave., Chicago, IL 60637, or by E-mail: uchicago-magazine@uchicago.edu.
To write us with your news directly, click here for our e-mail form: uchicago-magazine@uchicago.edu.
No engagements, please. Items may be edited for space. For that reason, starting with the April/96 issue we will no longer list all of the U of C alumni present at a wedding, but only those alumni who are relatives or were members of the wedding party. As news is published in the order in which it arrives, it may not appear immediately.
Please specify the year under which you would like your news to appear. Otherwise, we will list: (1) all former undergraduates (including those who later received graduate degrees) by the year of their undergraduate degree, and (2) all former students who received only graduate degrees by the year of their final degree.
---
Within Class News:
---
G. Marie Whipple Alanen, AB'60, received a Ph.D. in art history from UCLA in July 1995. She now teaches at East Los Angeles College and California State University, Northridge. Daughter Julia recently graduated from the University of California, San Diego, and is a student at the University of San Diego. Myra Janz Armstrong, AB'60, married Gene L. Armstrong on December 30, 1994. Her new grandchildren are Katie Marie and Christopher Alan; her stepchildren include Scott, Tammy, Blake, and Brent. Myra is the training coordinator at the Center for Computer Assistance to the Disabled in Texas. Thomas L. Bohan, SB'60, earned his Ph.D. in physics from the University of Illinois in 1968 and a J.D. from the Franklin Pierce Law Center in Concord, NH, in 1980. Bohan directs a forensic-science consulting firm, Medical & Technical Consultants of Portland, ME, that he established in 1982. He also has an intellectual-property law firm, Thomas L. Bohan & Associates, established in 1984, in Portland. Benjamin H. Cohen, AB'60, see 1989, Rochelle F. Cohen. Michael J. Harrison, SM'56, PhD'60, continues research and teaching as a professor of physics at Michigan State University and is now also adjunct professor of epidemiology in the school's College of Human Medicine. He taught a course in epidemiologic modeling in spring. John E. Mueller, AB'60, see 1959, Judy Reader Mueller.
61
Roger W. Axford, AM'49, PhD'61, with assistance from the Basha Foundation, recently presented three books-Spanish Speaking Heroes, Native Americans: 23 Indian Biographies, and Black American Heroes-to each of the 48 elementary schools in the Mesa, AZ, school district. Axford recently published a book of his own, Crazy Jokes for Funny Folks. Mary Alsina Hays, AB'61, AM'66, teaches fourth grade at a Vermont public school. Her husband publishes the magazine Vermont Woodlands, to which she occasionally contributes history pieces and book reviews. They raise Corriedale sheep and are about to become grandparents. G. Edward Schuh, AM'59, PhD'61, is dean of the Humphrey Institute of Public Affairs at the University of Minnesota.
62
V. Olga Kennick Beattie Emery, AB'62, PhD'82, was profiled in an October front-page Concord (NH) Monitor article that focused on her work as a psychologist at the VA Medical Center in Manchester and her research into vascular dementia. Emery has received several awards for her work, published three books and numberous articles, and taught at Case Western Reserve and Dartmouth.
63
Doris A. Evans, AB'63, received a 1995 YWCA Women of Achievement award. Alan M. Levy, AB'63, JD'65, a Milwaukee lawyer, teaches labor law at the University of Wisconsin-Milwaukee. He writes, "Both sons, the spouse of one, and the fiancee of the other, are lawyers, which infuriates my wife at family dinners full of shop talk. Our oldest daughter, born at the Lying-In Hospital, now is a retail executive in Chicago." Roberta F. Reeder, AB'63, has returned from four years in Germany, where she did research and taught in Maruburg and Weimar. Her book Anna Akhmatova: Poet and Prophet (St. Martin's Press) was chosen by the New York Times as one of the best paperbacks of 1995. Elsa Stern Slae, AB'63, lives in Jerusalem, where she freelances as a tour guide and does research on the city in the past century. She has published a book in Hebrew, Ha Yishuv Ha Yehudi BeinHachomot, and is working on an expanded English version. Slae is happy to meet and guide alumni; she can be reached by E-mail at brachasl@mail.snunit.k12.il.
64
Arnita Y. Boswell, CLA'64, an SSA professor emerita, is the acting director of the Community Renewal Society, a 118-year-old race and poverty institute. She is also a director of Seaway National Bank, the largest African-American bank in the U.S.
65
William A. Cramer, SM'60, PhD'65, has been appointed Henry Koffler professor of biological sciences at Purdue. Louise Woerner, MBA'65, was named chair of the New York State Public Health Council by the governor.
66
Robert E. Craig, MBA'66, reports that Robert Craig Wine Cellars has released its first wine, a 1992 Napa Valley cabernet sauvignon. Robert M. Hambourger, AB'69, and wife Lynda "are still happily settled in North Carolina." Daughter Elizabeth is a sophomore at the University of North Carolina, Chapel Hill. Son Michael is a high-school senior, and son Timothy, 9, is in fourth grade. Kenneth T. Jackson, AM'63, PhD'66, see 1993, Joshua M. Lupkin. Sayre Jennings Van Young, AB'66, see 1967, Lawrence I. Schwartz.
67
Eric J. Gleacher, MBA'67, was nominated to join the executive committee of the U.S. Golf Association. Gleacher made news recently for his $15-million gift to the University's downtown center, named in his honor. Thomas C. Heagy, AB'67, MBA'70, became CFO of ABN AMRO North America in January. Mark I. Oberlander, PhD'67, see 1990, Michael I. Oberlander. Dorothy E. Patton, PhD'67, directs the office of science policy in the Environmental Protection Agency's office of research and development. June Carter Perry, AM'67, a Foreign Service Officer, was named deputy chief of mission, American Embassy, Bangui, Central African Republic. Lawrence I. Schwartz, AB'67, continues as chief of medicine at Summit Hospital in Oakland, CA, and Lois Wolf Schwartz, AB'67, AM'72, AM'90, is still associate dean at JFK Law School. They recently celebrated the 50th birthday of Paul A. Silver, AB'67, with Sayre Jennings Van Young, AB'66; John E. Hellman, AB'68; and Marlene Hevia Hellman, AB'69-"good friendships from the College that have survived more than 30 years." They also frequently see Nancy S. Toder, AB'67.
68
Keith R. Ballantine, MAT'68, taught science and math for 18 years in the Azores Islands, Portugal. He now teaches computer science, science, and mathematics in Italy, where he has worked for four years. Ballantine is stationed at Aviano Air Base, where the U.S. does much of its preparation work for the Bosnian peacekeeping operation. Renee Cherow-O'Leary, MAT'68, is coordinator for Creating Critical Viewers, a media-literacy project of the National Academy of Television Arts and Sciences. John E. Hellman, AB'68, see 1967, Lawrence I. Schwartz. William H. Lynch, JD'68, was lead counsel for the NAACP in a race-discrimation class action against American Family Mutual Insurance Company in Milwaukee. U.S. Attorney General Janet Reno joined in the announcement of the settlement, which awarded millions in compensation to class members and community programs. Corinne C. Sherton, SB'68, PhD'73, is a partner in the law firm of Johnson, Kloos & Sherton, specializing in land-use planning and water law. John A. Tatom, AM'68, joined Union Bank of Switzerland as vice president and senior international economist in April 1995. In June 1994, Janet Gross Wagner, AB'68, and husband Murray moved to Richmond, IN, after 30 years in the Chicago area. Janet works at Lilly Library at Earlham College and Murray teaches at Bethany Theological Seminary, which shares a campus with Earlham School of Religion. Daughter Rachel finished her first year at Earlham, as did her cousin Becky, the daughter of Lowell E. Wagner, AM'68. Lawrence J. Young, AM'68, cowrote and coedited Social Work and the Norwegian Welfare State (NotaBene).
69 Gary D. Astrachan, AB'69, and wife Christine announce the September 23 birth of Samuel Alexander and Benjamin Julian. Robert M. Hambourger, AB'69, see 1966, Robert M. Hambourger. Marlene Hevia Hellman, AB'69, see 1967, Lawrence I. Schwartz. In April 1995, James A. Henson, AM'69, was elected to a three-year term on the national board of the American Association of Sex Educators, Counselors, and Therapists. He is also the district 2 chair. Jerald A. Kessler, AB'69, JD'72, and Elizabeth Katz Kessler, AB'69, MD'73, live in Highland Park, IL, with children Ben, 13, and Emma, 10. Elizabeth is an associate professor of clinical psychiatry at Finch University/Chicago Medical School and has her own neurology practice. Jerry practices law and is a mediator-he was recently elected president of the Mediation Council of Illinois. William H. Sterner, AB'69, MBA'82, is back at the U of C working toward a Ph.D. in conceptual foundations of science. David H. Swanson, AM'69, is president and chief executive of Countrymark Cooperative, an Indianapolis-based farm co-op.
---
Go to:Return to June 1996 Table of Contents