The University of Chicago Magazine October 1995
---
Return to October 1995 Table of Contents
---
CHICAGO JOURNAL
Making peace
In preparation for a ceremony held on campus in August commemorating the 50th anniversary of the bombing of Hiroshima, Constance Stepanek of the International Catholic Peace Movement gathers origami cranes. The paper birds were later attached to the Henry Moore sculpture, Nuclear Energy, which marks the spot of the first self-sustaining nuclear chain reaction. The cranes' use as peace symbols refers to the story of a Hiroshima girl who, before dying from the effects of radiation exposure, tried to follow a Japanese custom of making 1,000 origami cranes to regain her health.
New trustees on board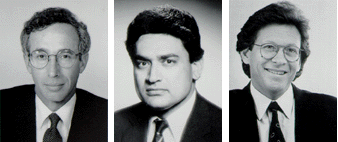 Three prominent Chicago-area corporate executives--James Frank (left), Rajat Gupta, and Thomas Pritzker--were elected to the U of C's board of trustees. Frank, president of Wheels, Inc., a corporate-transportation firm, is chair of and a major investor in BTI Americas, the country's third-largest corporate travel-management company. He has a B.A. from Dartmouth and an M.B.A. from Stanford. Since 1994, Gupta has been the managing director of McKinsey & Company, the world's largest general-management consulting firm. A native of India, Gupta graduated from the Indian Institute of Technology and received his M.B.A. from Harvard. Pritzker, president of Hyatt Corporation since 1979, helped found Triton Container Holdings, and is also founder and chair of HealthCare Compare Corporation. He received his B.A. from Claremont Men's College in 1971 and earned both his M.B.A. and J.D. from the University of Chicago in 1976.
Plus items For the Record.
---
Go to: Return to October 1995 Table of Contents