The University of Chicago Magazine October 1995
---
Return to October 1995 Table of Contents
---
CHICAGO JOURNAL
Heartfelt:


English professor Richard Stern's latest work, A Sistermony (Donald I. Fine), was this year's winner of the Chicago Tribune's Heartland award for best nonfiction. Stern's highly personal memoir recounts his emotions surrounding the illness and death of his only sister. Previous award winners include Jane Smiley and Henry Louis Gates, Jr.
Class of 1999:
A total of 990 students make up the incoming first-year class. Almost half graduated in the top 5 percent of their class and scored 1300 or better on their SATs. Nearly half are women; four in ten are Midwestern, one in five come from the Mid-Atlantic, and 7 percent are international students. African-American and Hispanic students comprise 3 and 6 percent of the group, respectively.
Say cheese: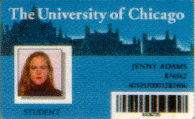 The University of Chicago card made its debut this fall. Used to gain entrance to dining halls and the Library, the card is also equipped with magnetic stripes that let students make purchases from campus vending, copy, and laundry machines. Its use may be ex- panded to include purchases from the Bookstore and local merchants, and (brace yourself, parents) cash-station withdrawals.
Appealing choice:
This summer, the U.S. Senate confirmed Diane Wood's appointment to the U.S. Circuit Court of Appeals, 7th Circuit. Wood--currently on leave from the Law School--joins an 11-judge court that includes Chief Justice Richard Posner and Judge Frank Easterbrook, JD'73, who both taught at the Law School before their appointments to the court.
Hyped up:
The U of C's 100-watt WHPK is marking its 50th anniversary with a compilation CD featuring past musical highlights from Pure Hype, the station's live local music and interview program. (Warning: With bands such as Galaxy of Mailbox Whores in the lineup, don't expect chamber music.) The CD will be distributed nationally to select markets, with proceeds benefiting the station.
Fringe benefit:
For the fourth time since its 1986 inception, the student improv-comedy group Off-Off Campus performed this August at Scotland's annual Fringe Festival in Edinburgh--considered among the world's most prestigious theatrical gatherings.
Debating doomsday:
The Bulletin of the Atomic Scientists, founded in 1945 at the University of Chicago, will mark its 50th anniversary December 7 and 8. During the event, a first-of-its-kind public debate will be held over the setting of the Bulletin's "Doomsday Clock," which has symbolized for decades the threat of nuclear destruction--and which now stands at 17 minutes to midnight.
Going to the Chapel:

The Rev. Alison Boden became dean of Rockefeller Memorial Chapel in July. She was previously chaplain at Bucknell University, where she advised the school's Habitat for Humanity chapter and taught in Bucknell's Social Justice Residential College. A Vassar College graduate, Boden received her M.Div. in 1990 from Union Theological Seminary.
Cough, please:
Assistant professor of medicine Charles Burant gave the NBC television series ER a shot in the arm during its on-location filming in Chicago this summer. Burant performed annual physicals on the hit show's cast and crew.
Press check:
A new "alternative" newspaper, the Free Press, was founded this fall to "break the Chicago Maroon's monopoly on student news and opinion" and provide a place "for in-depth news, investigative reporting, and opinions...both liberal and conservative." The monthly plans a 5,000 circulation in the University and Hyde Park area.
Research that counts:
Sociology professor emeritus Donald Bogue has received the Population Association of America's 1995 Robert J. Lapham award, recognizing Bogue's career achievements in population research.
Puzzle solver:
High-energy physicist Bruce Winstein was elected to the National Academy of Science. For the past ten years, Winstein has studied, with ever-increasing precision, the phenomenon of CP-violation, one of particle physics' greatest puzzles. Joining the University of Chicago as a research associate in 1972, he became a professor in 1983.
Plus photographs from campus: New Trustees. A ceremony is held on campus in August commemorating the 50th anniversary of the bombing of Hiroshima.
---
Go to: Return to October 1995 Table of Contents