The University of Chicago Magazine October 1995
---
Return to October 1995 Table of Contents
---
Digital Vision
---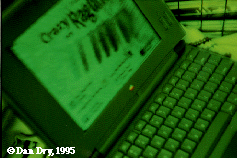 A reluctant businessman, Robert Winter co-founded Calliope Media one year ago, he explains, "because the exciting intellectual and artistic things that I want to make were never going to get done at a university." In contrast, Calliope's five-person staff work from their Santa Monica office in what Winter, a full professor and former department chair at UCLA, calls a "profoundly collaborative" fashion-one that's rarely rewarded in academe.
Business, like the collaboration, is looking good. With partner Jay Heifetz, former chief financial officer of a Paramount Pictures division (and the son of violinist Jascha Heifetz), Winter has attracted corporate investment from London-based publisher Macmillan Ltd. In November, Calliope celebrates the release of Robert Winter's Crazy for Ragtime, but for Winter, life as an entrepreneur is only the latest twist for a pianist who clearly plays to a different drummer.
No child prodigy, Winter showed talent but "detested" piano lessons-although he's now on close terms with his boyhood teacher. At Brown University, his plans as a physics major fizzling, he was "hit by lightning" at 19 with a new interest in music, and so began professional training two steps behind his peers, "who tossed around terms like 'diminished-seventh chord.'" That come-from-behind start, he says, has had a huge influence on his work: Winter, whom the Wall Street Journal called "probably the best public explicator of music since Leonard Bernstein," says that, above all, "I don't want to communicate or express myself like an insider."
Graduating from Brown in 1967, he wanted to study performance and musicology. "You can't do that," Winter was told. He did-though warned that the path would lead to mediocrity in both fields and expertise in neither.
Choosing Chicago was the advice of his first wife, Ellen Turner Harris, AM'70, PhD'76, who later chaired the U of C's music department and is now associate provost for the arts at MIT. Winter, having started an M.F.A. in piano at SUNY-Buffalo, began musicology at Chicago, too. Although the two students later divorced, "we both were just delighted that we found Chicago," he says. The music faculty was like "the Yankees in 1956, or the '55 Dodgers," he remembers. "I never had a course that wasn't just fraught with issues and challenges."
Making ends meet as an auto mechanic, Winter completed his master's at Chicago in 1972, then headed for Europe on fellowships to research his dissertation on a late Beethoven string quartet-and to perform. Years after, the research led to his coauthoring The Beethoven Sketchbooks: History, Reconstruction, Inventory, which thesis advisor Philip Gossett, now dean of Chicago's humanities division, calls "the significant work" on its subject-the fragmentary notebooks, torn apart by collectors, that hold crucial insights into the master's compositional process.
With slides and live performances, Winter has been teaching popular "multimedia" music courses at UCLA since 1974. It was in one such class that Voyager cofounder Bob Stein spotted Winter, later introducing him to multimedia's computerized form. Now there's no turning back: A few years ago, Winter wrote in 19th Century Music, a journal he co-founded, that he was swearing off print publishing for electronic media. Colleagues reacted, "Robert, have you gone off the end of the wharf out there in Santa Monica?"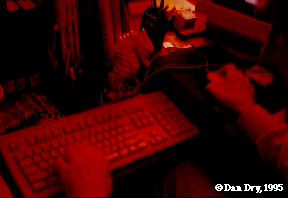 Continue reading "Digital Vision"
Return to opening of "Digital Vision"
CLICK HERE FOR A "Robert Winter Glossary."
---
Go to: Return to October 1995 Table of Contents