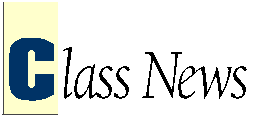 Alumni Awards
A Campus Champion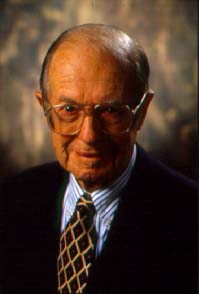 Ferdinand Kramer, PhB'22, was awarded the University AlumniService Medal.

Throughout seven decades, Ferdinand Kramer, a life trustee of the University,has contributed to the vitality of the campus and its community and tothe re-creation of American cities. As head of the real estate firm Draper& Kramer, Inc., he used his extraordinary skills in urban developmentto express his firm commitment to economic and racial integration, establishingmiddle-income housing available on a nondiscriminatory basis. The developmentof Prairie Shores, Lake Meadows, and Dearborn Park, as well as the stabilizationof the Kenwood/Oakland community, are just a few examples of all that Kramerhas accomplished in the city. Nationally, he has served on the President'sCommittee on Equal Opportunity Housing.
In his volunteer work for the Alumni Association, work that began inthe 1940s, Kramer has helped maintain the University's academic prestige,through fund-raising with the National Development Council, the ChicagoAlumni Task Force, and the Major Gifts Committee for several capital campaigns;and by serving as the founding chair of the President's Fund. He has servedon the University's Committee on Campus Planning and the Neighborhood,as well as on the Visiting Committee on Student Programs and Facilities,and he was instrumental in the founding and early success of the IrvingB. Harris Graduate School of Public Policy Studies. Ferd Kramer has supportedthe horticultural beauty of the campus, and, as a champion tennis player(who has won seniors doubles championships on all four surfaces), has beenan unfailing supporter of the U of C's recreational facilities.
---
Heather Tobis Booth, AB'67, AM'70
Kenneth Dunn, AM'70
Howard Landau, PhB'24
James McClure, AB'42, JD'49
Eleanor P. Petersen, X'53
Rafael Ravelo, AM'77
Anna Zellick, AB'41
Rex James Bates, SB'47, MBA'49
Catherine Cleary, AB'37
George Gloeckler, SB'60, SM'61, PhD'65
John Hockenberry, X'79
Dorothy Patton, PhD'67
Judith E. Stein, AB'62, AM'64
J. Ernest Wilkins, Jr., SB'40, SM'41, PhD'42
Robert Winter, AM'72, PhD'78
Irwin Askow, AB'36, JD'38
Joan Feitler, AM'55
Thomas Heagy, AB'67, MBA'70
Kenneth Kaufman, X'69, MBA'76
Thomas J. Lee, AM'90
Katherine Dusak Miller, AB'65, MBA'68, PhD'71
Kathryn Stevens, AM'70
Robert Boland, AB'83, MBA'87
Jennifer L. Magnabosco, AB'85, AM'85
Within Class News:
---