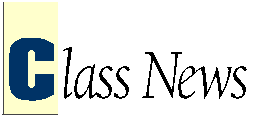 1920s and 1930s
---
What's the news? We are always eager to receive your news at theMagazine, care of the Class News Editor, University of ChicagoMagazine, 1313 E. 60th St., Chicago, IL 60637, or by E-mail: uchicago-magazine@uchicago.edu.
To write us with your news directly, click here for our e-mail form:uchicago-magazine@uchicago.edu.
No engagements, please. Items may be edited for space. As news ispublished in the order in which it arrives, it may not appear immediately.
Please specify the year under which you would like your news to appear.Otherwise, we will list: (1) all former undergraduates (including thosewho later received graduate degrees) by the year of their undergraduatedegree, and (2) all former students who received only graduate degreesby the year of their final degree.
---
25
Louis M. Rapoport, PhB'25, X'27, who has been workingin television and motion pictures for 10 years, is now a member of theScreen Actors Guild and the American Federation of Television and RadioArtists. Rapoport celebrated his 93rd birthday in December 1996, and inJune, the Rapoport family held a reunion in Chicago.
27
Marie Thiele Liter, PhB'27, SM'33, writes thatPaul Horst, PhD'31, and his wife, Muriel, recently moved to FredericksManor in Chula Vista, CA, where Liter also resides. Both Horst and Literstudied psychology under Research Associate Thelma G. Thurstone at theU of C. "Paul had a distinguished career in psychometrics, and wasthe chief founder of the Journal of Psychometrics," Liter recalls."He continues to work, and Muriel is helpful in the library here."Liter enjoys writing occasionally for a local news journal and keepingtrack of baseball scores. Rachel Fort Weller, PhB'27, AM'28, reminiscesabout the time she and her husband, Allen S. Weller, PhB'27, PhD'42,spent at the University: "Allen takes pride in the fact that his studentyears at the U of C began in kindergarten and ended with his Ph.D. in 1942.In the same year, the U of C Press published his first book, Francescodi Giorgio." Of herself, Weller recalls, "In my sophomore year,I began the study of Italian because I wanted to read Dante in the original.The three quarters of my junior year were concentrated upon the major workof the great Florentine poet and became the highlight of my Universityyears." Weller pays tribute to Professor Ernest Hutch Wilkins, "whopresented the courses in a quiet manner which, without a trace of flamboyance,expressed his devotion to high scholarship and his true love for his subject.He was unfailingly courteous to his students, never belittling us for ourblunders, but helping us over difficulties with patient respect. That yearof Dante study has illumined all the years of my long life." Welleradds that she and Allan are now 90 and 92 and great-grandparents: "Thelatest of the youngest generation are twins, 10 months old." The twins'grandparents are the Wellers' daughter, Judith Weller Harvey, X'52,and her husband, Cyril H. Harvey, AB'52. The Wellers send "warmestgood wishes" to former classmates.
28
The 70th class reunion will be held June 5-7, 1998. W.Franklin Bush, PhB'28, turns 92 in September, and his wife is 94. Hewrites, "We are in good health and enjoying our family, friends, andnew experiences."
30
Harriet Hathaway Fearon, PhB'30, writes that shelives at Hilltop Estates, a retirement residence in Redding, CA.
31
Paul Horst, PhD'31, see 1927, Marie Thiele Liter.
33
The 65th class reunion will be held June 5-7, 1998. MarileeHarris Shapiro (Asher), PhB'33, of Washington, DC, had four mixed-mediasculptures, combining bronze work and sound, on view July 1 through August10 in the Smart Museum of Art exhibit, Sound Sculptures. Her work has beenshown widely in the Washington, DC, and Baltimore areas, but this is Shapiro'sfirst one-woman show in Chicago.
35
While competing in the 80-84 age group of the Philadelphiasenior games at Temple University on May 16, Theodore Kahan, SB'35, whois 84, placed first in four events: the 1,600-meter walk and the 100-,200-, and 400-meter runs.
37
Julian A. Kiser, AB'37, was sorry to miss his 60threunion, but he had heart surgery in May, two days after his 80th birthday.He writes, "The repair work was a complete success," adding,"One of the surgical team remarked that, although I had to miss my60th, they've probably fixed me up for our 75th reunion."
38
The 60th class reunion will be held June 5-7, 1998.Hugh M. Davidson, AB'38, PhD'46, see 1979, Frederick J. Antczak. MichaelM. Dolnick, AB'38, AM'39, a lifelong member of the American NumismaticAssociation and collector of Greek and Roman coins, spent three weeks inTurkey visiting such archaeological sites as the ancient cities of Perga,Pergamum, and Ephesus.
39
Erwin F. ("Bud") Beyer, AB'39, see 1951,Michel P. Richard. Hart Perry, X'39, AM'40, see 1942, Beatrice GaidzikPerry.
---
Within Class News:
Heather Tobis Booth, AB'67, AM'70
Kenneth Dunn, AM'70
Howard Landau, PhB'24
James McClure, AB'42, JD'49
Eleanor P. Petersen, X'53
Rafael Ravelo, AM'77
Anna Zellick, AB'41
Rex James Bates, SB'47, MBA'49
Catherine Cleary, AB'37
George Gloeckler, SB'60, SM'61, PhD'65
John Hockenberry, X'79
Dorothy Patton, PhD'67
Judith E. Stein, AB'62, AM'64
J. Ernest Wilkins, Jr., SB'40, SM'41, PhD'42
Robert Winter, AM'72, PhD'78
Irwin Askow, AB'36, JD'38
Joan Feitler, AM'55
Thomas Heagy, AB'67, MBA'70
Kenneth Kaufman, X'69, MBA'76
Thomas J. Lee, AM'90
Katherine Dusak Miller, AB'65, MBA'68, PhD'71
Kathryn Stevens, AM'70
Robert Boland, AB'83, MBA'87
Jennifer L. Magnabosco, AB'85, AM'85
---